Wellbeing and mental health are closely connected.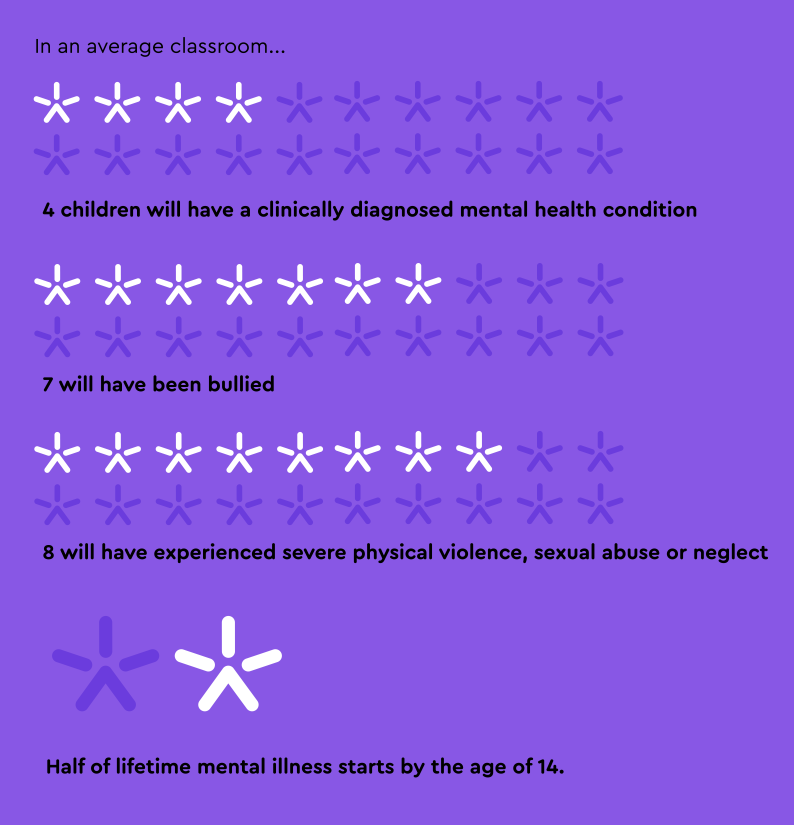 'Mental health problems' refers to the wide range of mental health, emotional and social challenges, difficulties, conditions and illnesses that can beset both pupils and staff, including stress, anxiety, depression, attachment difficulties and behavioural problems.
In an average classroom, 4 children will have a clinically diagnosed mental health condition, 7 will have been bullied and 8 will have experienced severe physical violence, sexual abuse or neglect,
Half of lifetime mental illness starts by the age of 14.

Suicide is one of the leading causes of death for young people.
'Wellbeing' refers to a state of positive mental health and wellness. It involves a sense of optimism, confidence, happiness, clarity, vitality, self-worth, achievement, having a meaning and purpose, engagement, having supportive and satisfying relationships with others and understanding oneself, and responding effectively to one's own emotions. 
Early intervention and a whole school approach can be highly effective in improving wellbeing and reducing the impact of mental health problems.
Evidence from Public Health England and the Department for Education (see below) about the impact of supporting wellbeing shows:
Social and emotional competencies are a more significant determinant of academic attainment than IQ
Pupils who are confident about learning and have a 'growth mindset' persist when faced with challenges
Pupils who can set goals, manage stress and organise their school work achieve higher grades
Pupils who use problem-solving skills to overcome obstacles do better academically.
Children with higher levels of emotional, behavioural, social, and school wellbeing, on average, have higher levels of academic achievement and are more engaged in school, both concurrently and in later years.
Children with better emotional wellbeing make more progress in primary school and are more engaged in secondary school.